Mapepire Viper-class Interceptor
This article originally appeared in the July/August 2020 issue.
The workhorse of the Duchess's Own Legion is the aptly-named Mapepire Viper, a small, fast deadly ship designed to serve customs control, scout, and anti-piracy functions. Though displacing only 200 tons and limited to Jump-2, the Viper is faster and more maneuverable than many fighters, able to engage the enemy at very long range, and capable of delivering deadly fusion fire at shorter ranges. Its armor will deflect most turret-sized weaponry and its sensors will detect all but the most stealthy ship. The standard Viper is a matte-black menacing presence, visible as a dark shadow on the starfield, but rumors persist of a stealth version designed for surveillance, and some claim, privateering beyond the borders of the Mapepire Cluster.
The Duchess's Own Legion ordered the first Vipers, designed by Vroman and Associates of Mapepire Balsayn, in 1068. While each ship's initial crews claimed naming rights for their vessels, the official designation is VI-###, starting with the prototype VI-201, named Viper, launched in 1072 and accepted for duty in 1074.
Capable of 9g acceleration, the Vipers replaced the older 7g Mongoose-class interceptors, many of which were sold as surplus. In 1102, VI-1000, Eldritch Dream, entered service. By 1105, a total of 874 Vipers had been produced for the Legion, with another 26 on order and in various stages of completion. Of the commissioned ships, 36 had been lost in service or written off for a variety of reasons. Private or foreign buyers have ordered another 48 Vipers, designated as VE-2## escorts. Of these, 28 have been delivered, 12 are under construction, and 8 are completed, but final delivery is pending licensing or diplomatic resolution.
The Legion uses Vipers as patrol craft within Mapepire's borders and in adjacent systems with mutual defense arrangements. Patrolling in system around mainworlds and common refueling points such as gas giants and iceballs, Vipers generally operate in pairs, and sometimes small squadrons of four to six craft if expecting significant opposition. The Viper's high acceleration allows it to run down nearly any ship it pursues and outrun any ship too large to handle.
In 1097 a squadron of four Vipers defeated a mercenary cruiser and three armed troop transports during an attempted coup by foreign interests in the nation of Jannasav on Hunyadi. After outrunning an initial volley of missiles, the Vipers charged the intruding vessels, fried the mercenary cruiser with fusion fire and accepted the surrender of the single surviving troop transport, earning the Legion the thanks of the government and permission to station a permanent garrison on the border world.
In 1104, Die Weltbund seized VE-204, Black Banshee at Dragonrest, accusing the crew of piracy and transporting them for trial at Brandenburg. The Duchy of Mapepire disavowed any responsibility for VE-204's actions, providing notarized documentation of the bill of sale to a registered military contractor. The crew is appealing their death sentences.
The Mapepire Viper design was submitted by the author as a sample or 'teaser' for an extensive supplement on the Beyond Sector, currently in preparation.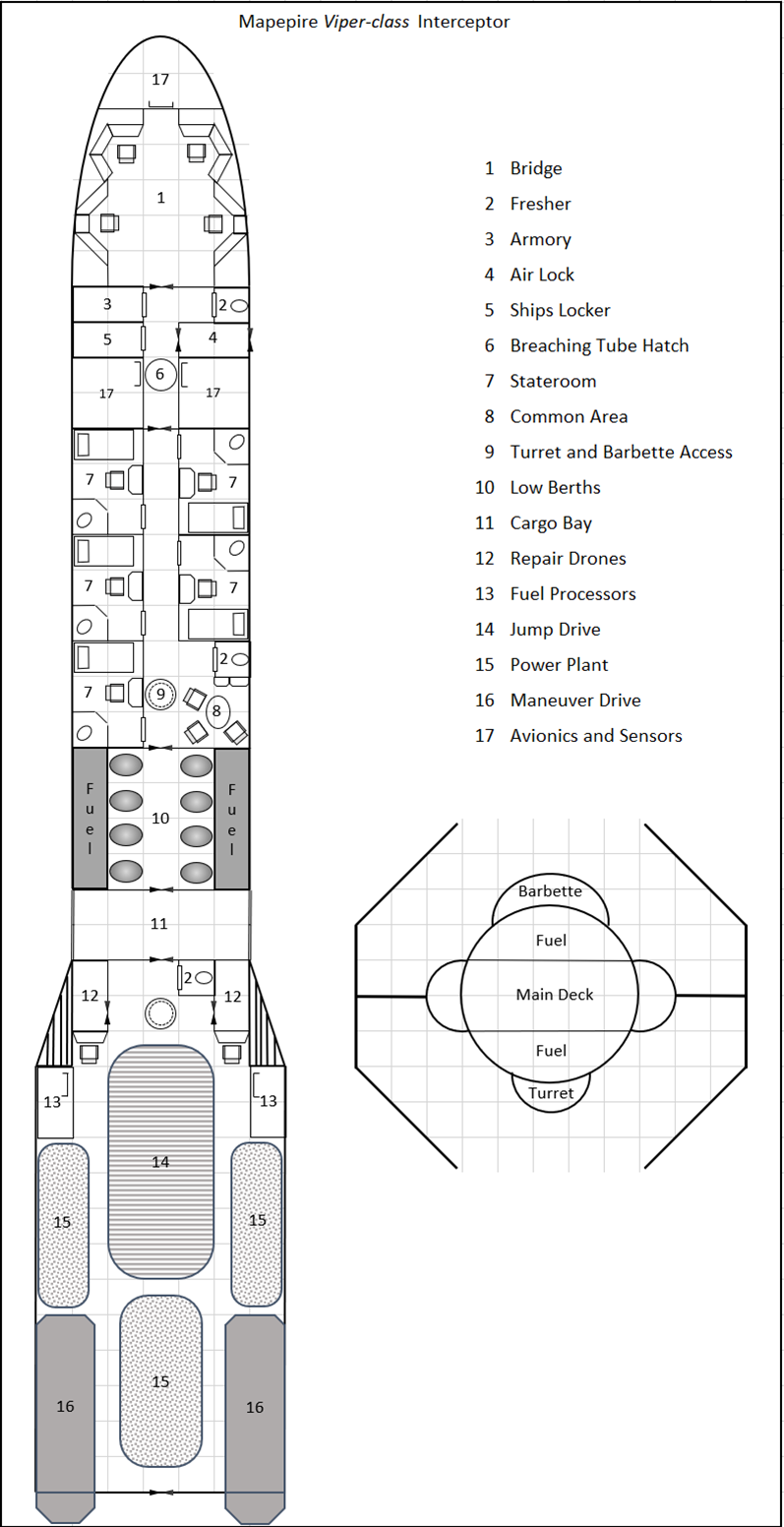 Mapepire Viper-class Interceptor/Escort (Mongoose 2nd Edition)
System
Description
Disp (dtons)
Cost(MCr)
Hull (80 pts)
200 dtons, streamlined
Radiation Shielding
-
12.000
5.000
Armour
Crystaliron
25
6.000
Maneuver Drive
Thrust 9g (Power 180)
18
36.000
Jump Drive
Jump-2 (Power 40)
15
22.500
Power Plant
Fusion, TL12 (Provides Power 300)
20
20.000
Fuel Tanks
1×Jump-2,
8 wks ops
40
4
-
-
Bridge
Holographic controls
10
1.250
Computer
Model 25 (primary)
Model 15 (backup)
-
-
10.000
2.000
Sensors (Power 7)
Improved (+1) TL13
Enhanced Signal Procesing (DM+4)
Countermeasures Suite (DM+4)
3
2
2
4.300
8.000
4.000
Weapons (Power 33)
1×triple turret (PPP) LR,HY:VL, 2D+4
1×fusion barbette: M, 5D, RAD
1
5
5.500
4.000
Systems
Fuel Scoop
Fuel Processors (40 t/day) (Power 2)
Sensor Station
Repair Drones
Aerofins (DM+2)
Armory
Breaching Tube
Forced Linkage Apparatus
-
2
1
2
10
1
3
2
-
0.100
0.500
0.400
1.000
0.250
3.000
0.100
Staterooms
Standard×5
Low Berths×8 (Power 1)
20
4
2.500
0.400
Software
Library, Maneuver/0
Jump Control/2
Auto-repair/1
Fire Control/2
Intellect
Virtual Crew/0
0.000
0.200
5.000
4.000
1.000
1.000
Common Areas
5
0.500
Cargo space
5
Total
200
160.500
Crew (Monthly salary)
Pilot
Astrogator
Engineer×2 (Cr4000 each)
Medic
Gunner×2 (Cr1000 each)
Cr6000
Cr5000
Cr8000
Cr3000
Cr2000
Monthly Maint
Cr13375
Total Monthly Cost
(not including mortgage)
Cr37375