Type YY Shuttle
Designed by Billye Gilbert
This craft is primarily used as a CEO/VIP shuttle/transport. It is also used around deep space facilities where an air raft (or enclosed air raft) would be more effective or warranted then a shuttle or cutter except for the fact the facilities are outside a gravity well making such contragrav-based vehicles useless. This is because it built using not contragrav technology, but instead the smallest, most compact spacecraft-grade Thruster Plate drives ever built.
Because of the small size, they are cheaper to buy and maintain than a ship's boat, better performance than an air raft (not limited to being used within a gravity well, also quicker surface/orbit transfers), and with their small size they can fit in standard bays designed for other small air-raft-style craft. Although the power requirements for these drives make it impossible for them to have much of an endurance/duration time, since they are not meant to be use as stand alone vehicles, but in the company of other ships/stations/facilities which can supply them, this is not a problem. Another thing in their favor, their controls are design in a way to allow them to be operated like a standard grav vehicle, allowing it to move about the world among the everyday traffic flows, not limited to landing and launch patterns about the starport. Most worlds (about 95%+), required special permits to operate these vehicles in such a capacity. Usually they required that the operator have both a spaceship pilot's license AND a grav vehicle license. If the operator does not have both, they may be able to take a special series of tests, which if passed, will allowed the operation of the ship. It is easier for a person with a Spacecraft Pilot license to get a special permit allowing operations of this vehicle has a grav vehicle then the other way around. It is because of their cost and licensing that most keep them confined to CEO/VIP roles within the Corporate world. This in many ways have added to their image. If fact, it is consider the Limo of the corporate world.
This ship came about thanks to the efforts of crazy, some say totally insane, designer from a small almost unknown shipyard in the Spinward Marches. This one ship, launched the yard into fame and is just one of many designs that will come out of it designer fertile mind.
There are 6 version, one for each TL from 11 to 16. From TL11 to TL13 it's has G2 ability. At TL14, advancements in fusion plant technology pushed power output to the level that G3 drives are useable at TL14and G4 drives at TL15 and TL16. The downside is additional lost of duration, but since the craft is not meant for any use beyond support of a mother ship or facility, this drop in endurance is acceptable.
The basic layout, shown below, allows for the operator and six passengers, with a cargo area at the rear.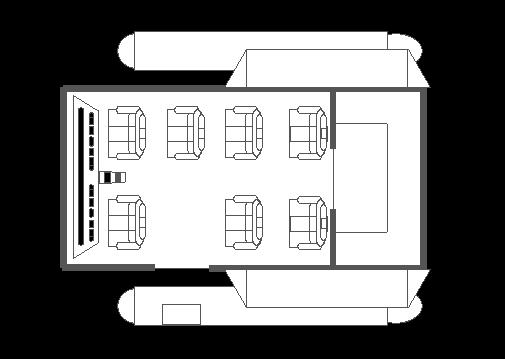 Alternative layouts trade passenger capacity for cargo space. The most common variants (1) remove the two rear seats and extend the cargo area, or (2) remove all but the operator's seat, allocating the entire area for cargo. These variants are primarily used as port-based loading vehicles (for 'special handling' high passengers and their baggage).
---
Craft ID

Shuttle, Type YY, TL11 MCr6.1812775

Hull

Damage Points: 4/8; Disp: 47.25; Config: 4SL; Armor: 40E
Unloaded: 40.8295; Loaded: 41.17875

Power

Damage Points: 1/2, Fusion 18MW; Duration 9 days 21 hours

Loco

Damage Points: Maneuver: Thruster: 2/4
Grav: Avionics: 150; G-Thrust: 2; Vmax: 2120kph

Speeds in kilometers per hour
Atmosphere
Nap-of-Earth
Cruise
Top
Vacuum
150
1590
2120
Very Thin
150
1590
2120
Thin
150
1125
1500
Standard
150
750
1000
Dense
150
562.5
750
Very Dense
62.5
187.5
250

Agility: 0.01

Commo

Radio: System x1

Sensors

EMM Masking; Passive EMS: Substellar; Active EMS: Far Orbit; Enhance: Headlights x5, Synthetic Vision x1

Other

Environmental x1; Magnetic: V Dist x1; Radiation: V Dist x1

Scans

ActObjScan: Routine; ActObjPin: Routine; PasObjScan: N/A; PacObjScan: N/A; PasEngScan: Routine; PasEngPin: N/A

Def

DefDM: 2.01

Controls

Computer=0/bis x2; Electronic Circuit Protection; Mechanical: Basic x5; Linked: Dynamic x66; Displays: HeadsUp x2

Environment

Basic Env; Basic L/S; Extended L/S; Grav Plates; Inertial Comp

Accommodations

Operators x1; Passengers x6; Seats: Adequate x7

Other

Cargo: 0.05kl; Hydrogen: 4.275kl; ObjSize: Small; EMLevel: Faint

Misc

Video Recorder x1
---
Craft ID

Shuttle, Type YY, TL12 MCr4.1472375

Hull

Damage Points: 4/8; Disp: 47.25; Config: 4SL; Armor: 40F
Unloaded: 40.3295; Loaded: 40.78963

Power

Damage Points: 1/2, Fusion 18MW; Duration 11 days 11 hours

Loco

Damage Points: Maneuver: Thruster: 2/4
Grav: Avionics: 160; G-Thrust: 2; Vmax: 2120kph

Speeds in kilometers per hour
Atmosphere
Nap-of-Earth
Cruise
Top
Vacuum
160
1590
2120
Very Thin
160
1590
2120
Thin
160
1125
1500
Standard
160
750
1000
Dense
160
562.5
750
Very Dense
62.5
187.5
250

Agility: 0.15

Commo

Radio: System x1

Sensors

EMM Masking; Passive EMS: Substellar; Active EMS: Far Orbit; Enhance: Headlights x5, Synthetic Vision x1

Other

Environmental x1; Magnetic: V Dist x1; Radiation: V Dist x1

Scans

ActObjScan: Routine; ActObjPin: Routine; PasObjScan: N/A; PacObjScan: N/A; PasEngScan: Routine; PasEngPin: N/A

Def

DefDM: 2.15

Controls

Computer=0/bis x2; Electronic Circuit Protection; Mechanical: Basic x5; Linked: Dynamic x47; Displays: HeadsUp x2

Environment

Basic Env; Basic L/S; Extended L/S; Grav Plates; Inertial Comp

Accommodations

Operators x1; Passengers x6; Seats: Adequate x7

Other

Cargo: 0.05kl; Hydrogen: 4.959kl; ObjSize: Small; EMLevel: Faint

Misc

Video Recorder x1
---
Craft ID

Shuttle, Type YY, TL13 MCr4.2744875

Hull

Damage Points: 4/8; Disp: 47.25; Config: 4SL; Armor: 40F
Unloaded: 39.0825; Loaded: 39.31198

Power

Damage Points: 1/2, Fusion 27MW; Duration 3 days 13 hours

Loco

Damage Points: Maneuver: Thruster: 2/4
Grav: Avionics: 170; G-Thrust: 2; Vmax: 2120kph

Speeds in kilometers per hour
Atmosphere
Nap-of-Earth
Cruise
Top
Vacuum
170
1590
2120
Very Thin
170
1590
2120
Thin
170
1125
1500
Standard
170
750
1000
Dense
170
562.5
750
Very Dense
62.5
187.5
250

Agility: 0.44

Commo

Radio: System x1

Sensors

EMM Masking; Passive EMS: Substellar; Active EMS: Far Orbit; Enhance: Headlights x5, Synthetic Vision x1

Other

Environmental x1; Magnetic: V Dist x1; Radiation: V Dist x1

Scans

ActObjScan: Routine; ActObjPin: Routine; PasObjScan: N/A; PacObjScan: N/A; PasEngScan: Routine; PasEngPin: N/A

Def

DefDM: 2.44

Controls

Computer=0/bis x2; Electronic Circuit Protection; Mechanical: Basic x5; Linked: Holographic x33; Displays: HeadsUp Holo x2

Environment

Basic Env; Basic L/S; Extended L/S; Grav Plates; Inertial Comp

Accommodations

Operators x1; Passengers x6; Seats: Adequate x7

Other

Cargo: 0.05kl; Hydrogen: 2.564kl; ObjSize: Small; EMLevel: Faint

Misc

Video Recorder x1; Holorecorder x1
---
Craft ID

Shuttle, Type YY, TL14 MCr3.7129875

Hull

Damage Points: 4/8; Disp: 47.25; Config: 4SL; Armor: 40G
Unloaded: 38.9015; Loaded: 39.14876

Power

Damage Points: 1/2, Fusion 27MW; Duration 3 days 21 hours

Loco

Damage Points: Maneuver: Thruster: 2/4
Grav: Avionics: 180; G-Thrust: 3; Vmax: 2850kph

Speeds in kilometers per hour
Atmosphere
Nap-of-Earth
Cruise
Top
Vacuum
180
2137.5
2850
Very Thin
180
2137.5
2850
Thin
180
1125
1500
Standard
180
750
1000
Dense
180
562.5
750
Very Dense
62.5
187.5
250

Agility: 0.48

Commo

Radio: System x1

Sensors

EMM Masking; Passive EMS: Substellar; Active EMS: Far Orbit; Enhance: Headlights x5, Synthetic Vision x1

Other

Environmental x1; Magnetic: V Dist x1; Radiation: V Dist x1

Scans

ActObjScan: Routine; ActObjPin: Routine; PasObjScan: N/A; PacObjScan: N/A; PasEngScan: Routine; PasEngPin: N/A

Def

DefDM: 2.48

Controls

Computer=0/bis x2; Electronic Circuit Protection; Mechanical: Basic x5; Linked: Holographic x30; Displays: HeadsUp Holo x2

Environment

Basic Env; Basic L/S; Extended L/S; Grav Plates; Inertial Comp

Accommodations

Operators x1; Passengers x6; Seats: Adequate x7

Other

Cargo: 0.05kl; Hydrogen: 2.818kl; ObjSize: Small; EMLevel: Faint

Misc

Video Recorder x1; Holorecorder x1
---
Craft ID

Shuttle, Type YY, TL15 MCr3.37429

Hull

Damage Points: 4/8; Disp: 47.25; Config: 4SL; Armor: 40G
Unloaded: 34.353; Loaded: 34.6956

Power

Damage Points: 1/2, Fusion 27MW; Duration 3 days 16 hours 28 minutes

Loco

Damage Points: Maneuver: Thruster: 2/4
Grav: Avionics: 190; G-Thrust: 4; Vmax: 3400kph

Speeds in kilometers per hour
Atmosphere
Nap-of-Earth
Cruise
Top
Vacuum
190
2550
3400
Very Thin
190
2550
3400
Thin
190
3442.5
4590
Standard
190
2295
3060
Dense
190
1721.25
2295
Very Dense
190
573.75
765

Agility: 0.60

Commo

Radio: System x1

Sensors

EMM Masking; Passive EMS: Substellar; Active EMS: Far Orbit; Enhance: Headlights x5, Synthetic Vision x1

Other

Environmental x1; Magnetic: V Dist x1; Radiation: V Dist x1

Scans

ActObjScan: Routine; ActObjPin: Routine; PasObjScan: N/A; PacObjScan: N/A; PasEngScan: Routine; PasEngPin: N/A

Def

DefDM: 2.60

Controls

Computer=0/bis x2; Electronic Circuit Protection; Mechanical: Basic x5; Linked: Holographic x32; Displays: HeadsUp Holo x2

Environment

Basic Env; Basic L/S; Extended L/S; Grav Plates; Inertial Comp

Accommodations

Operators x1; Passengers x6; Seats: Adequate x7

Other

Cargo: 0.05kl; Hydrogen: 4.183kl; ObjSize: Small; EMLevel: Faint

Misc

Video Recorder x1; Holorecorder x1
---
Craft ID

Shuttle, Type YY, TL16 MCr3.34174

Hull

Damage Points: 4/8; Disp: 47.25; Config: 4SL; Armor: 40G
Unloaded: 28.788; Loaded: 29.15552

Power

Damage Points: 1/2, Fusion 27MW; Duration 3 days 18 hours 43 minutes

Loco

Damage Points: Maneuver: Thruster: 2/4
Grav: Avionics: 200; G-Thrust: 4; Vmax: 3400kph

Speeds in kilometers per hour
Atmosphere
Nap-of-Earth
Cruise
Top
Vacuum
200
2550
3400
Very Thin
200
2550
3400
Thin
200
3442.5
4590
Standard
200
2295
3060
Dense
200
1721.25
2295
Very Dense
191
573.75
765

Agility: 0.74

Commo

Radio: System x1

Sensors

EMM Masking; Passive EMS: Substellar; Active EMS: Far Orbit; Enhance: Headlights x5, Synthetic Vision x1

Other

Environmental x1; Magnetic: V Dist x1; Radiation: V Dist x1

Scans

ActObjScan: Routine; ActObjPin: Routine; PasObjScan: N/A; PacObjScan: N/A; PasEngScan: Routine; PasEngPin: N/A

Def

DefDM: 2.74

Controls

Computer=0/bis x2; Electronic Circuit Protection; Mechanical: Basic x5; Linked: Holographic x31; Displays: HeadsUp Holo x2

Environment

Basic Env; Basic L/S; Grav Plates; Inertial Comp

Accommodations

Operators x1; Passengers x6; Seats: Adequate x7

Other

Cargo: 0.05kl; Hydrogen: 4.536kl; ObjSize: Small; EMLevel: Faint

Misc

Video Recorder x1; Holorecorder x1