21 Plots Too
This article originally appeared in the November/December 2022 issue.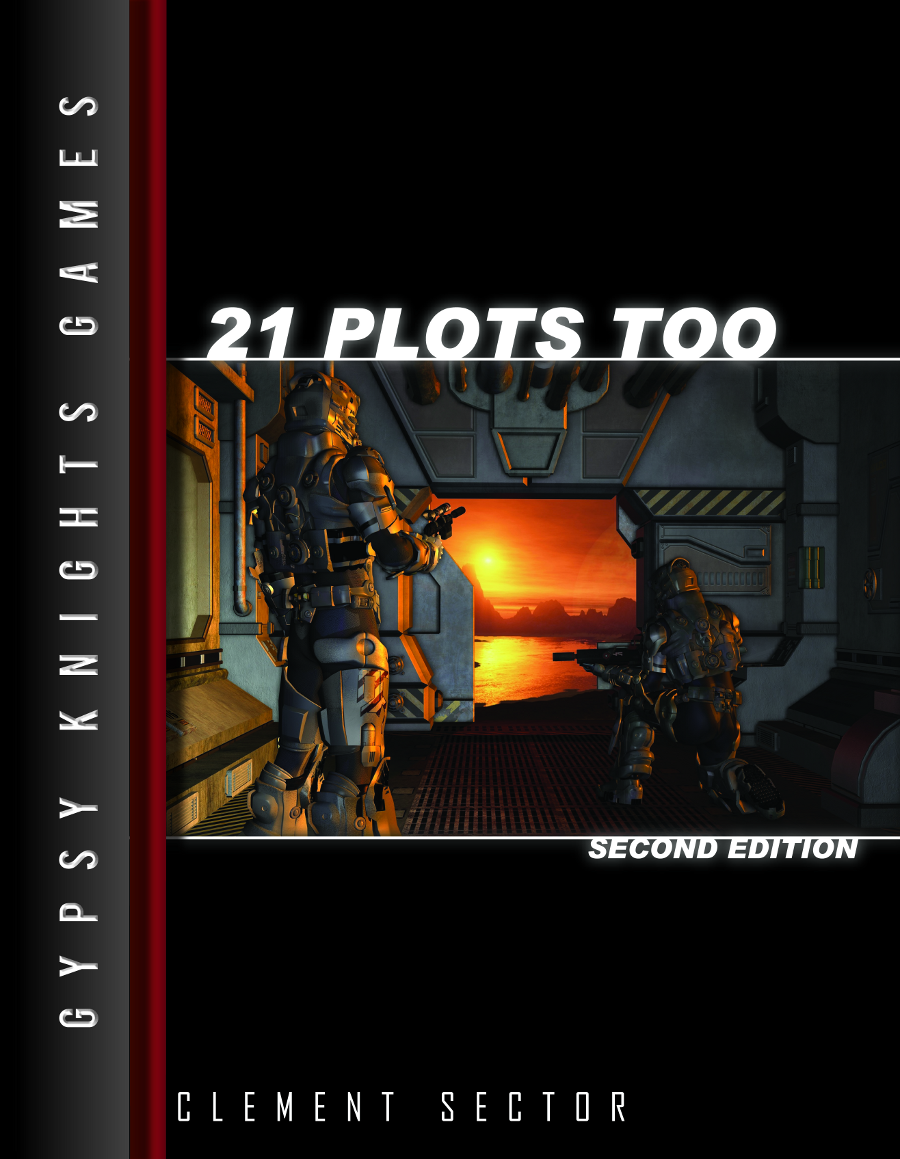 21 Plots Too. Michael Brown.
Independence Games https://independencerpgs.com/
26pp., PDF
US$5.99/UKú5.35
I'm looking at the 21 Plots series by Independence Games (formally Gypsy Knights Games), and I've looked at 21 Plots Go Forth and 21 Plots. I wasn't impressed so much with 21 Plots Go Forth. 21 Plots, on the other hand, was much better. And knowing they went from good to not so good I thought I'd find out where in the series they went wrong. Hence looking at 21 Plots Too.
If you're reading this you know what a Patron Encounter is, so I won't bore you with telling you again, but that's what 21 Plots Too are. 21 Patron Encounters. And if you don't know what a Paton encounter is then … Hey! Welcome to Traveller, you're picked the right RPG :) … I know … I'm biased.
They introduce more text in the set-up of the patron encounters, which just makes it harder to read, and they add some specificity to the patron encounters, probably because they had just released a world/system setting book when this originally came out. Otherwise not too bad.
There are more that are non-entities, they are generally less inspiring; however there was one that just hit me out of nowhere. There's the rock star who's wife thinks he's cheating and the PCs are hired to see if he is. Most of the options are kind of predictable but the last one is he turns out he's an interstellar hit man … I know … I wasn't expecting that! And while I wouldn't use that with the Rock Star there is a Patron Encounter earlier that needs spicing up and this would fit the bill.
Overall ok. Not as good as 21 Plots, not so bad as 21 Plots Go Forth. I can see where this is heading … I'm going to read the next one in the series anyway, but I'm pretty sure what I'm going to find. Wall of text, setting specificity (that I don't use) and uninspiring and non evocative.
21 Plots Too is $6 on DriveThruRPG and for that you get 21 Patron Encounters. The preview shows you the first encounter in full so you kind of know what to expect. Is it value? Not as good as 21 Plots, better than 21 Plots Go Forth. For me it's not money well spent. There are better things out there for your $6, and I suspect that the further we go along the series the less the value of them is going to be.