Cepheus Deluxe
This article originally appeared in Cepheus Journal #009 and was reprinted in the November/December 2022 issue of Freelance Traveller.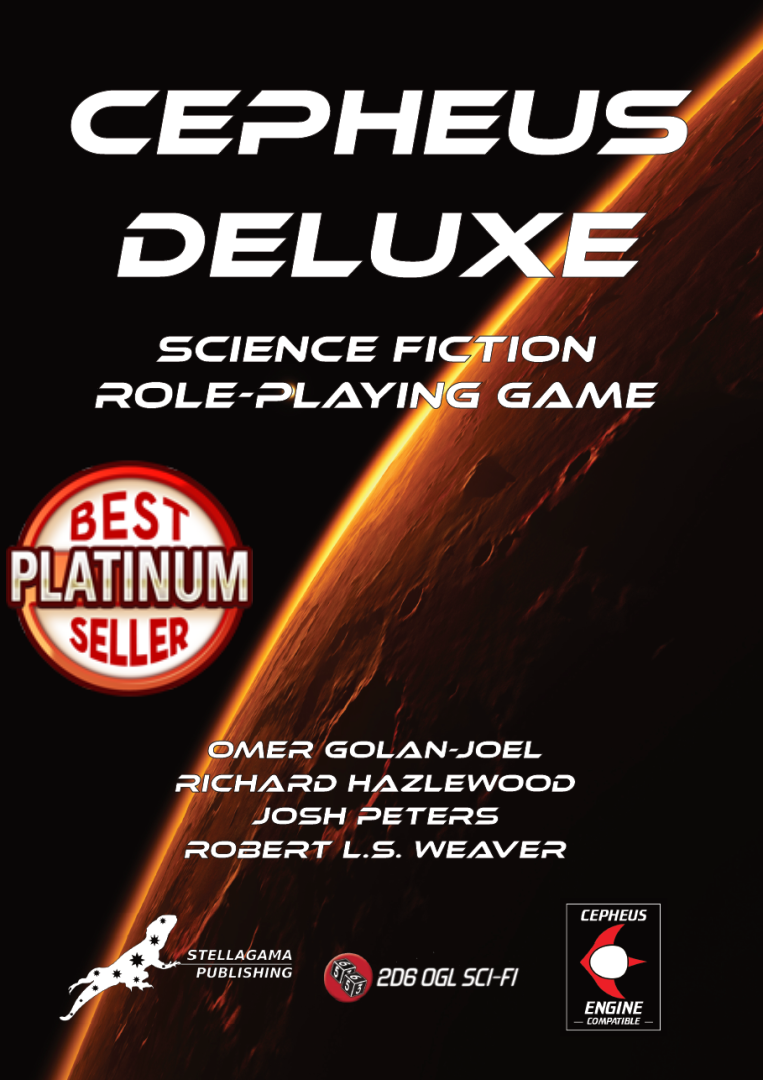 Cepheus Deluxe. Omer Golan-Joel, Richard Hazlewood, Josh Peters, Robert L.S. Weaver.
Stellagama Publishing http://spacecockroach.blogspot.com/
235pp, Hardbound, Softcover, PDF
US$9.99(P), US$16.99(S), US$20.99(H), US$22.98(P+S), US$26.98(P+H)
UKú8.80(P), UKú14.97(S), UKú18.49(H), UKú20.25(P+S), UKú23.77(P+H)
At 227 pages Cepheus Deluxe is a good-sized rulebook. I got my PDF copy from DriveThruRPG, as shipping a physical book to Australia costs way more than the PDF itself. One day I'll try Lulu….
The cover is a beautiful design, the sunrise on the edge of the planet's surface contrasting well with the plain black and white cover. Looking inside the layout is clean and formatted well, everything I've come to expect from Stellagama Publishing.
The artwork for the most part is pretty plain grayscale work, which I think gives the whole book a rather vintage feel and lends itself to the overall crispness of the design.
The rules have all the common sections of Cepheus Engine, as well as the original scifi RPG. Basic rules cover game mechanics, as well as option rules I've seen in other Stellagama products. That in itself is a really is a good touch and shows that Cepheus Deluxe really is a complete rule set.
Skills covers, of course, all 31 skills. While this may be less than some of its big brothers, 31 skills is a nice set for the fast game play Cepheus Deluxe is meant to foster.
Next comes character generation, with a total of 12 careers to choose from. Again, nice, simple and quick so your players get into gaming as quickly as possible. Traits is the next section, with seven pages to choose from.
To be honest, I've never gamed with traits but once I'd read them, I'm keen to get into a game with them. Anyone got an opening at present?
The next sections are equipment, environmental hazards, personal and vehicle combat, and psionics. Equipment is the usual stuff, plenty to choose from. Cybernetics is a nice inclusion for anyone wanting to run with a cyberpunk style game.
There's a mini robot design sequence in there, and one for vehicles, all quick and designed to game fast. Environmental hazards give just enough information to give referees an idea on how to use them in game play.
Psionics has always been a game favorite of mine, though usually in the background. Cepheus Deluxe give it just enough coverage to allow it to make an appearance in any game.
Next sections cover starships, their operations, trade, smuggling, design and construction, encounters and, of course, combat. Each area has enough detail to allow for good gaming, but not too much that it gets in the way.
The final sections are world creation and social/xenofauna encounters. This is followed by referee advice and adventure seeds, as well as five appendices to help the referee start building their own worlds.
All up Cepheus Deluxe is a great rule book that stands on its own. I can't wait to see what settings will come from it.