2300ad: French Arm Adventures
This review originally appeared on rpg-resource.org.uk in March 2016 and was reprinted in the September/October 2019 issue.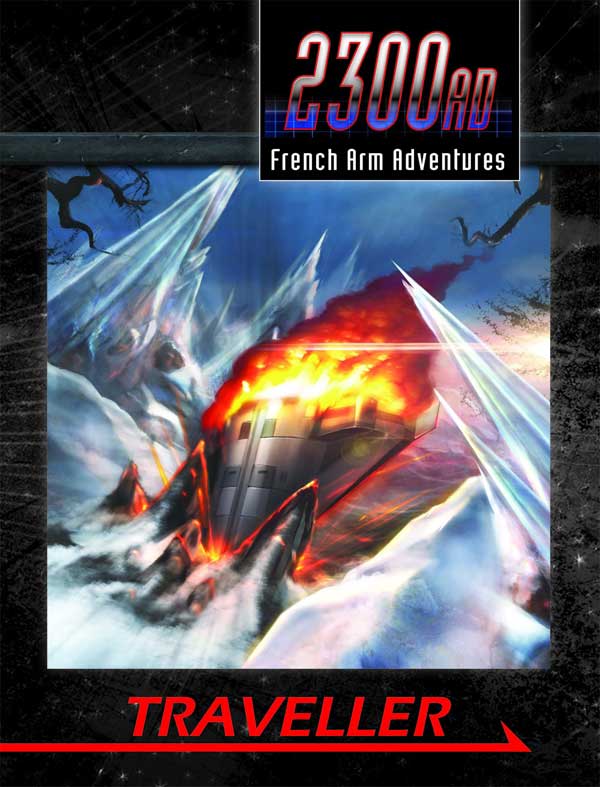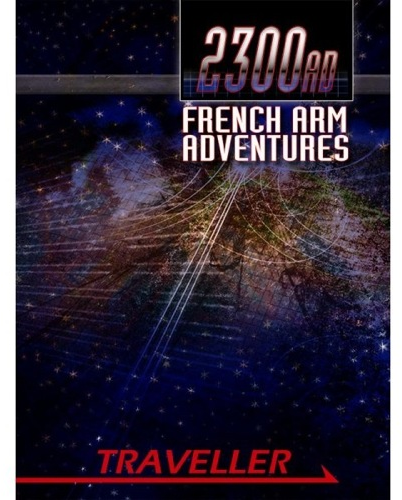 2300ad: French Arm Adventures. Colin Dunn.
Mongoose Publishing http://www.mongoosepublishing.com
178pp., PDF
US$23.99/UKú19.58
Editors Note: This review appeared on rpg-resource.org.uk with the rightmost cover image. The other cover image was found while preparing another review of this product, and some readers may have that version instead.
This book contains three adventures and ancillary material about the worlds on which they are set. The adventures are based on ones originally released by Game Designer's Workshop for their 2300AD game—"Beanstalk", "Kafer Dawn", and "Energy Curve"—which have been retooled for the Mongoose Traveller ruleset. It is recommended that the introductory adventure "Tricolore's Shadow" be played first, but as I don't have a copy I cannot comment on that.
There's a nice map of the French Arm, then it's on to the first adventure, "Beanstalk". There is a lot of supporting material explaining the nature of the Beanstalk itself and the planet of Beta Canum where it is to be found—plenty of history and background that makes the place come to life and suggests further ideas for adventure even after this one is done. Beta Canum has four continents—the French Continent, the British Continent, the German Continent, and the Southern Continent, and there is also an alien embassy, the Pentapod Enclave. All of these are described in considerable detail.
Scene set, we move on to sections entitled The Actors and The Drama. The Actors provides details of leading NPCs and The Drama consists of three separate but linked scenarios concerning the Beanstalk. These are followed by further materials: suggestions for follow-up adventures, technical data about beanstalk operation and other matters.
The adventures themselves involve the party working as troubleshooters for Rebco sampling air around the Beanstalk, getting involved in a dispute over foodstuffs produced by British and French companies and trying to survive when the Beanstalk gets sabotaged… Each can be run as a standalone adventure or they can be run in sequence.
Next comes "Kafer Dawn" (which for some reason suddenly becomes "Kaefer Dawn"…). In this, the party are mercenaries on the planet Aurore and get embroiled in the growing war with the Kafer (or Kaefer), an alien race that is not inclined to share space with any other colonists. There is background on Aurore, its capital Tanstaafl and the Kafer themselves, ideas for adventuring on Aurore and three scenarios to get you going. There's a lot to keep characters who enjoy the mercenary life busy.
The third adventure is "Energy Curve". This is not as well introduced as the others, everything's a bit muddled and a thorough read-through is recommended to understand precisely what is going on as—unlike the others in this book—you cannot get an overview at a glance. It involves a downed exploration vessel and the fight for survival on an unknown planet that ensues. There is masses of opportunity for exploration and interaction in this one, a fascinating and challenging adventure that lasts the better part of a year (game time).
Finally, there are a couple of appendices, one on the Pentapods and one about technology. Overall, there is a wealth of resources here over and above the adventures themselves, although there is a rather jumbled air to the whole thing with disparate adventures suited to at least three different parties (if not groups of players—people who like exploring may find less fun exploring new worlds or troubleshooting in a fairly civilised environment where gunplay is frowned upon, and vice versa). But there's plenty of material here and well worth reading as you build your knowledge of the French Arm and mine it for opportunities to adventure.