An Improvised Classic Traveller Convention Game
This article originally appeared on the author's WordPress blog on 3 July 2017, and appeared in the July/August 2017 issue.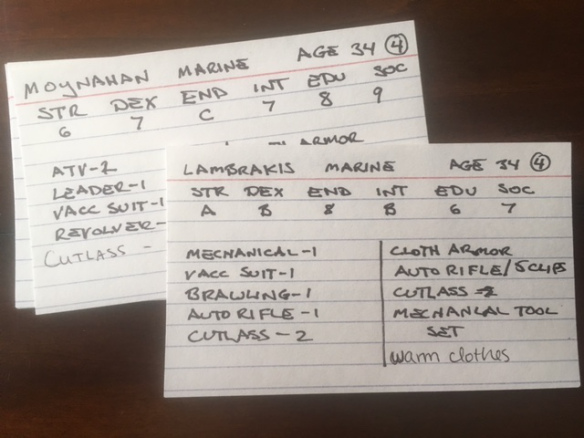 I was at a local convention a couple of months ago and decided mid-way through the day I wanted to run some Classic Traveller during one of the gaming blocks. I went to the sign up desk, grabbed one of the templates, and wrote out a quick description about hunting for treasure on a war-torn world. Then, during lunch, I set about hacking some notes together.
I've moved to index cards for my Lamentations of the Flame Princess game. I have come to prefer them for two reasons:
They make me keep my information, ideas, and descriptions short. And I've learned brief chunks of information are more practical for my RPG play. I need data I can grasp at a glance and move on. I need something brief that can inspire me for more ideas in the moment and that I can relate to the Players (via their Player Characters) through specific interactions. Lots and lots of detail means I am sitting there reading a bunch of stuff that I can't get out all at once. So for now I'm in the habit of jotting down what can fit on an index card per subject and moving on.
I love that I can pull the cards that I need out from the index card file box, set them out in front of me for reference, and then when I am done put them back.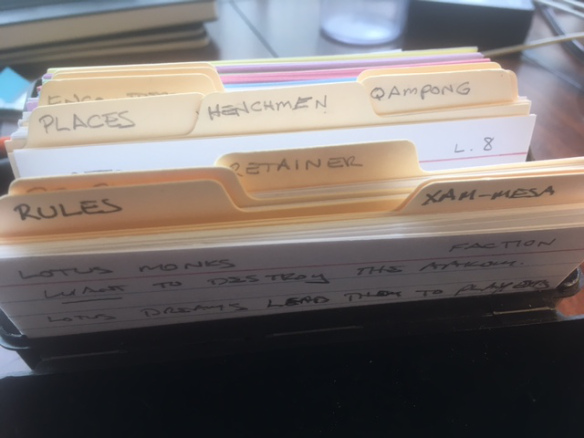 I got myself some index card tabs that I use to divide the cards into different categories, most of which are NPCs and Encounters divided by location. Here's an image from the cards from my Lamentations of the Flame Princess game.
I had no other Classic Traveller material with me. But luckily I have stored a ton of stuff on this blog as PDFs and images. So I pulled up this blog on my iPhone and got to work.
I grabbed some pre-made Player Characters from a file I had shared before. I transferred four Player Characters to index cards. Each player would choose one. I made them all Marines so that the Players would have easy hooks to each other. (See the cards at the beginning of the article.) Normally I love having people roll up Classic Traveller characters. But I've learned that simple as the process is the first time someone does it takes a while. And I really wanted to have more time to play the adventure.
While I was working on that I was back-burnering some thoughts for the adventure.
I wanted a clear goal out of the gate. (It was a four hour convention slot after all). So there was a treasure the PCs were after. I decided we'd go in media res—the PCs would already be on the trail of the treasure and were closing in on it when the game started. This way we could just get on with it instead of spending that first hour of everyone trying to figure out if they were on the "right path" for the adventure.
So I hacked together a few facts for the Players to have before we began:
The Player Characters would be chasing down rumors of an idol that was smuggled off a world decades ago and sold for a great fortune. It became a tale told in the culture of travellers, but no one had yet found the world where it had come from.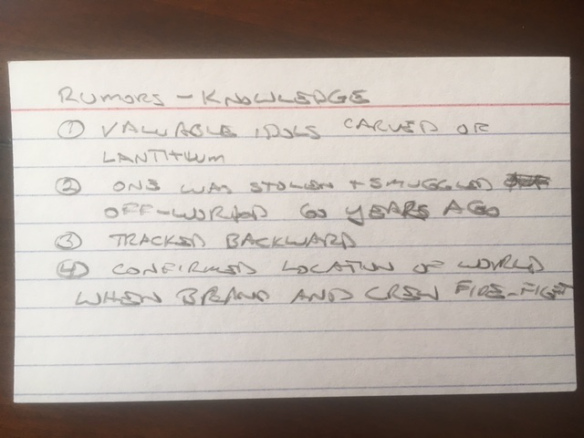 I decided the Player Character would already know about the idol, already had competition also looking for the world to see if there were more valuable idols (Captain Brand and his crew). Further, before play began I would explain to the Players their PCs had found a descendent of the man who had found the first idol, were meeting with him and got map of where his great-great grandfather had found the idols, but that Brand and his men arrived, killed their contact in a fire-fight, and escaped with the map. Thus, the race was on.
The name of the world was Pherris, and I whipped up four factions to engage the PCs: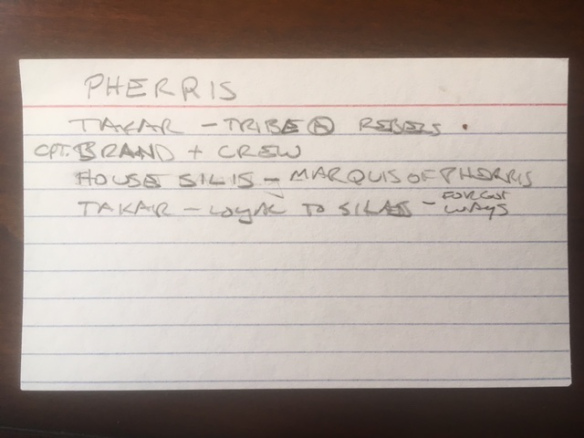 House Silis were the noble house that ruled Pherris in the name of a failing, ancient empire. The Takar were an humanoid-insect race that the humans had conquered decades ago. Some Takar were loyal to the humans, but others were beginning to revolt against human rule. And then there was Captain Brand and his men.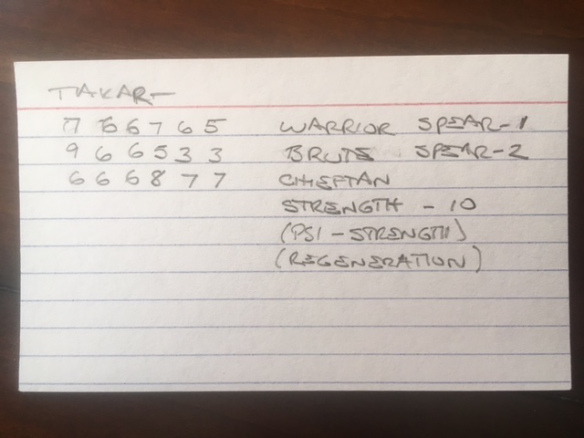 I started up three types of Takar really fast:
I decided the idols were made by an aboriginal culture and that the properties of the crystals keep a great beast in a great cavern in a state of suspended animation: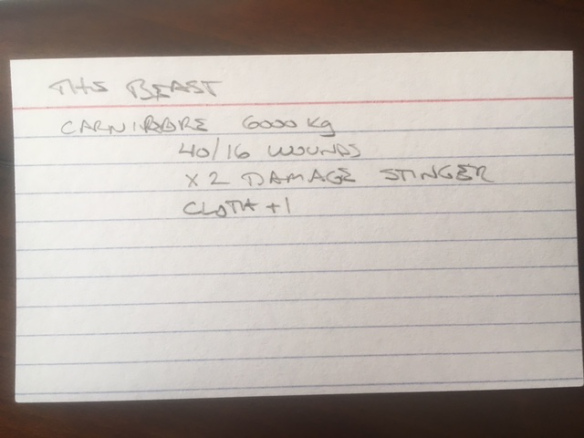 I have already designed Classic Traveller Weapon Cards for ease of play, but didn't have them with me. But using my phone I jotted down some common weapons we'd be using during the game to have them on hand. I didn't give them to the players. I simply gave them the Throw values as needed.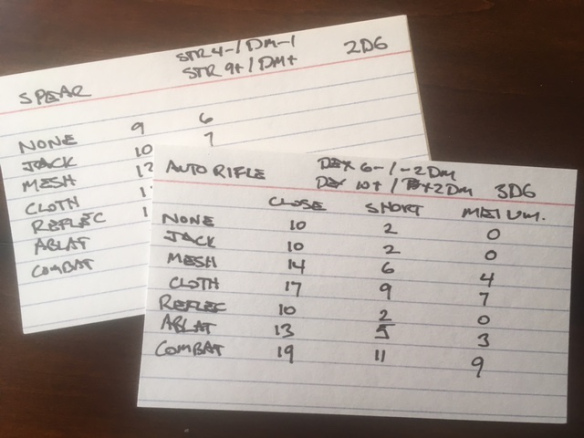 As for the game, it went gangbusters. Three players signed up. (One was from my regular Monday Night Group, the other two were strangers.)
The Players (by their own accounts) had a really great time. A loose premise, a few notes, a lose structure for an evening's entertainment… and then winging it in terms of both the players' choices and the pacing as seemed appropriate.
Lots of fun world-building on the fly. It was a world dominated by high tech humans lording over an aboriginal humanoid-like insect population that lived at a Tech Level 0 capability. But I found I was adding solid details beat by beat to fill out the sense of reality as we went. I described the cold of the world. How the Takar could essentially hibernate as needed to conserve food and energy. I told the Players, "Because you've all served you know the imposing architecture of the Silis Palace is not there to defend against attacks from space but to be imposing to the natives of this world." What I was looking for was not a "Hard SF" but enough details that made sense and an internal logic to give a patina of logic and science fiction–just like the fiction that inspired Marc Miller to create the game.
The experimentation I had done with other con games with Traveller paid off here as I knew the limits of the game and when to simply move things along. I was, per all my blog posts and comments thereon, a Referee who adjudicated the "logic" of the world and actions of the PCs quickly, often without requiring rolls, and then came up with Throws on the fly. No player blinked at that.
Because I had the pre-generated Player Characters I used my time at the top of the session to do a preamble about how the game was going to play differently than most games from the mid-80s on. I talked about the role of the referee. I talked about how they should not limit themselves to the skill list of what they can do but to look at the first line of the PC Index Card in front of them that listed their service branch (former Marines for all), age, and terms of service. "Remember," I said, "if there is something you think a marine should be able to do, you can probably do it."
Then came characteristics. And then skills under all that. I described how Throws could be made for almost anything. That they might not be able to try some things at all, but other times they could make a throw and sometimes a expertise rating might be a DM, or a very high or low characteristic might be a DM, or having been a Marine might be a DM. And other times they might simply do what they want if they have the right qualities of skill or characteristic or background without even having to make a roll.
I explained that Classic Traveller has no Experience system for activities or deeds done during play. Which means the Players have to set up their own goals or agendas and judge for themselves if they are getting closer or further way from what they want only through the details of the fiction. This makes it a unique game within the range of RPGs as far as I know. If the Players don't know what they want the game might well grind to a halt.
I explained the notion that space travel between the stars is relatively slow compared to what we are used to in most mass-media. I watched eyes widen with both sudden comprehension and delight at this notion. I will admit this delighted me — as I could see this novel aspect pulled all of them closer to core conceit of the game and the idea that it could take weeks, if not months, to travel a vast chain of star systems. The idea that space was BIG and travel between the stars was a BIG DEAL was beginning to take hold.
Then I broke the news that communication only moved at the speed of travel. Eyebrows went up. Smiles appeared. This was apparently A REALLY COOL NOTION. "No faster than light communication at all?"
"Nope," I replied.
"Like ships have to carry messages and communications between worlds?"
"Exactly," I said. "Like packet boats in the Age of Sail."
And with that, the three players really got the core conceit of Traveller's one core setting element and seemed delighted with this notion.
I asked them to tell me what one item they still carried with them from their time in the service (A jacket; a footlocker; pistols with handle grip designs commemorating a field action of great import).
I asked them to look at their age, terms of service, characteristics, and skills and think not in terms of what their character could do but how this informed the characterization of the character. "Looking at these details, who is this character? How do they see themselves? What do they want? Why are they traveling between stars when most people never do?"
I asked them how they met (after each of them mustered out, kicking around the stars and lacking focus), and what they sought.
One had been a quartermaster, always working to make an extra buck. I handed him the background details: Rumors of a crystal statue of great wealthy sold by a man 60 years ago for a million credits. The world was unknown, but rumor was he meant to go back years ago and get more.
I explained they had met up as this marine pursued this rumor. They were going to be meeting with the man who claimed to be the long dead man's great-great-great-grandson to get more details: the name of the world, a map.
The crew of a free trader charged into the bar during the meet. The man with the map was killed during a firefight. The map stolen from them.
The PCs worked passage on ships with greater jump capability than the free trader to beat their adversaries to the world. There they worked themselves into the planetary forces dealing with an uprising of "the abos" (aboriginals) who were now fighting against the abos who were loyal to the human ruling class. This allowed them to scope out the situation before the other crew arrived on planet, and gave them authority to take action against the crew when they arrived. (The arriving crew made the mistake of looking like they were trying to sneak onto the planet to smuggle weapons to the rebels.)
Lots of adventure, the Players being smart, unexpected mysteries. They realized there was a rebellion happening–and got themselves hired into the local militia. With their imperial training they were a cut above the local forces and managed to get themselves wide leeway going out on 'patrols' (but really trying to track down the location of the idols) without having anyone keeping too close an eye on them. (Please note: I did not think of this as a plan or expect it at all. This was something the Player Characters came up with on their own… and it was quite smart. I had no "adventure" planned. Just a situation. It was up to the Players to figure how they would move their characters forward. It was up to me to provide obstacles and opportunity.)
They found the crystal statues and figured out they were used to keep a buried creature in hibernation through psionic energy. They stole the crystals, awoke and unleashed what was pretty much a T-Rex. Hijinks ensued.
It was a solid old school game that could have been expanded greatly both in play time at the table and as a campaign. The players were coming up with all sorts of smart ideas that would have paid off for a longer campaign and I had to say things like, "That's really great. But we have forty minutes left for a con game. What is your objective now?"
One player (former Army, as it happens), as we took a break halfway through the session said, "I have to tell you… I am having a great time."
So everyone thought it rocked.
And I type all this up to say–the game was written and designed to play this easy, fast, and loose play–and you can play this way too. No long, details about politics that the Player Characters can't influence anyway. No thoughtfully pre-planned adventure the Player Characters are supposed to follow. No expectations of what the Players will do.
I simply came up with some notes. Let the Players move forward with their plans. Made rolls to see how things turned out when required, let them succeed without rolls if that made sense. And everyone had a great time.
Just sayin'.